Photography is…
Photography is… a hard-disk hog; I've just deleted 8Gb of unprocessed 'contact sheet' shots from photo-shoots. But capital-p Photography is also….
"…an austere and blazing poetry of the real" – Ansel Adams
"…the recording of strangeness and beauty with beguiling precision" – Sebastian Smee
"…the preservation of the world" – Eliot Porter
"…[a means by which we]…learn to see the ordinary" – David Bailey
"…a reality so subtle that it becomes more real than reality" – Alfred Stieglitz
"the dominant and fascinating and only folk art of the twentieth century" – Sir John Rotherstein
"…a means of 'bringing to memory' what the photographer overlooked in the moment of intuition" – myself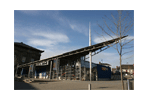 Yosemite Sky v1.1
is a
quality
Photoshop
emulation of the
"Ansel Adams style" black sky effect .
Get it
for only $2.50, by PayPal.