I'm selling my camera
:



My camera
: Fuji Finepix MX-2700, a 2.3 megapixel digital camera
. Flash, auto-focus, video-out capability. Cool design & slim "shirt pocket" size; carry it everywhere! Lovely colour sensitivity. Plus a 16Mb SmartMedia card, rechargable battery & UK recharger unit, and an FD-A2 Floppy Disk Adapter. All in good working order, just a few minor scratches on the aluminium casing. Boxed with CD, driver-disks & instruction-manual. £180, buyer pays postage. e-mail me if you're interested.
I'm also selling:
Sony Hi8 Handycam video- camera
& accessories (bagged), Studio DC10+ video-digitising card & kit (boxed), Studio 400 video-digitising card & kit (boxed). e-mail me for details. D'log readers get first look at this stuff; then in a few weeks I'll try eBay.
Blue Remembered Hills:
I went for a day trip to the Malvern Hills with my friend Pete. It was pleasantly cool and overcast while travelling down. The train zipped past many fresh flags of St. George flying from allotment gates, market stalls and in back gardens; quiet but implacable reflections of the changed national mood, I'd say, to which politicians and journalists are waking up to too late. And then bright sun burnt away the mists before the train passed through Worcester, giving a great view past the church towers of Worcester to the looming Malverns beyond. There had been a large grass-fire on the hills. But we went anyway, and found the hills open. And walking upwards in the fresh air we saw sheep. Lots of sheep. It seems there's a new land-management scheme in place, grazing sheep to keep down the invasive bracken. When we were at the top, admiring the magnificent views, two giant grey Hercules transport planes skimmed up over the ridges and down into the Oxfordshire air on the other side. They reminded me that the Malverns has often been a sort of military "death star" fortress, from the Roman occupation onward; blessed with both impregnable slopes and a copious supply of spring waters and game. But the spirits of many great creative artists
walk the hills too, of course. Here's the opening verse of Auden's 1933 poem, The Malverns….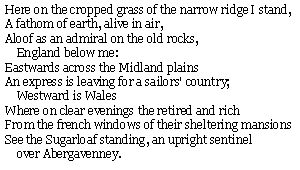 Walking down, we stopped off at St. Wulstan's church to visit Elgar's grave:


(large version, 82kb)


(large version, 56kb)
New web galleries:
jonny5alive, from Stafford in the West Midlands, has new photo galleries online.
Access all areas:
A national Australian magazine, Access, has sent an e-mail to ask if they can print one of my photos in the next issue, which is nice of them.
Lights! camera
! action!:
My crack team of 99 monkeys have finally produced new images for what is, after all, supposed to be my photoblog! 🙂

(large version, 61kb)


(large version, 65kb)


(large version, 108kb)


(large version, 92kb)

(large version, 72kb)