Films about photographers:
I hadn't noticed until recently, but there's a whole crop of new DVD documentaries about photographers. Variable quality, from made-for-TV retreads to new feature-length films, but at least they exist. Although, of course, none have been released in Britain. Available from the USA, to those with DVD players in their PCs, are: Brett Weston – photographer; (+over 800 images to browse); Alfred Stieglitz – The Eloquent Eye; Annie Leibovitz – Celebrity Photographer; Rivers & Tides (Andy Goldsworthy – out in 2004); Ansel Adams; Richard Avedon – Darkness and Light; The Photographer (Edward Weston); Helmut Newton – Frames from the Edge; W. Eugene Smith – Photography Made Difficult; Strand – Under The Dark Cloth (Paul Strand); The True Meaning of Pictures (Shelby Lee Adams); Stars by Helmut Newton; Hansel Mieth – Vagabond Photographer; Remembrance of Things To Come (Denise Bellon); Painting with Light in a Dark World (Peter Darren Moyle); and the just-out War Photographer (James Nachtwey). And I somehow missed an intriguing recent bit of comedy drama too: The Photographer.
Hopefully, it says something about our culture that we've come a long way from all those 60s/70s films featuring 'photographers as psycho-murderers or witnesses to psycho-murderers', i.e.: Peeping Tom; Rear Window; Eyes of Laura Mars; Blow Up, etc.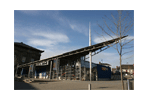 Yosemite Sky v1.1
is a
quality
Photoshop
emulation of the
"Ansel Adams style" black sky effect .
Get it
for only $2.50, by PayPal.