Red pen time:
I'm marking BIAD dissertations at the moment, with cheery titles like God and Satan in Commercial Cinema. Large amounts of chocolate & coffee. And a six-pack of red ink Bic pens.
Warning:
I'm owed money by TV company chxp.co.uk – and I didn't get paid. So this text will show up on search-engines to warn others, I hope. But, as Johnson said, "I'd rather be cheated a few times in my life than never to have trusted."
Breakfast After Noon:
I'm pleased to say that the West Midlands
seems to be harbouring another world-class comic-book talent (the other being, of course, Hunt Emerson). Breakfast After Noon by young Wolverhampton-based artist & writer Andi Watson has been nominated for an Eisner Award (the world's 'comic-book oscars'). The 200-page trade-paperback was published by Oni last July. It tells, in graphic-novel form, the story of the everyday lives of a young working-class couple Rob and Louise. They live in the Potteries/Stoke-on-Trent area of the West Midlands, and both work in the local ceramics factory; for wages which barely keep them above the poverty line. They're scrimping and saving to get married, but as the area's traditional industries collapse, the couple lose their jobs – and find themselves on the dole. The book's very much in Billy Bragg territory, but wears its politics very lightly; New Labour's election theme-tune Things Can Only Get Better plays on the car radio as the couple leave the factory for the last time, for instance.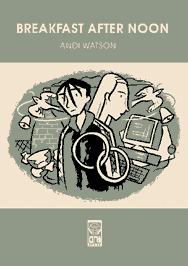 USA publisher Oni has ten free preview pages from Breakfast; and there's also a long NinthArt.com interview with Andi. Andi's also promising an exclusive web-comic, "coming soon" at artbomb.net.
His latest graphic-novel, Slow News Day, is set in the imaginary West Midlands
town of Wheatstone, and features the predicament of a gung-ho American journalist who finds herself seconded to a small & dull provincial newspaper. Those who enjoyed Birmingham
novelist David Lodge's excellent best-selling Changing Places novel could easily enjoy this. The Slow News Day installments are set to appear in collected graphic-novel form later in 2002. (Preview pages are here). If Andi's work sounds very film-able, that's because it is; he's already sold film options for several of his works.
And out this very week is Andi's new 'short-story' 56-page comic-book, Dumped; the story of two obsessive young collectors and how they meet and fall in love, and whether or not they can put anyone before their precious collections. Dumped was published a few days ago in the USA, and will officially premiere in Europe at The International Biennial of Young Arts (Turin, Italy – April 19th to May 19th 2002). Andi will also be talking (along with Hunt Emerson) at the Comics 2002 expo down in Bristol (1st – 2nd June 2002).
And, no; none of the above was on a handy press-release; I found a passing reference to Breakfast After Noon being set in the Midlands; and then spent an hour burrowing into the web to discover more 🙂 It's just co-incidence that Dumped is published this week. Why is there no British interest in this artist on his home turf? Everything I found was from the teflon-coated American comic-fan subculture; some of it rather bemused at the use of English colloquial words like 'cuppa' and 'ta'. None of the British newspapers have any mention of his work in their web archives, either. 🙁 Now, I may have missed a passing mention of his work in style mags like iD or The Face, but – I've said it here before and I'll say it again; you read it here first. Probably 😉