In the zone:
Remember the Ansel Adams' Zone System? No, not the obscure 1970s prog-rock band. The Zone System was a darkroom photography manipulation system that fried almost as many minds in the 70s as bad LSD and structuralism combined. Now, someone's hidden the complexities behind a layer of computer code, wrapped it up in a GUI, and called it LightZone v1.0.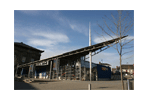 Yosemite Sky v1.1
does a
quality
Photoshop
emulation of the
"Ansel Adams style" black sky effect.
Get it
for only $5, by PayPal.