Business Link, broken:
Didn't think the Business Link brand could get even more tarnished than it already is? Think again. Clive Grinyer, Director of Design at The Design Council, writing in the latest Design Week, has lowered my opinion of them even further; "There used to be a small army of dedicated design advisors [within Business Links] across the country, but changes in policy have removed these." A witty cartoon by Hellman summarises Grinyer's article on design for smaller businesses. It might be a useful ice-breaker, for designers pitching to a small businesses new to 'design'?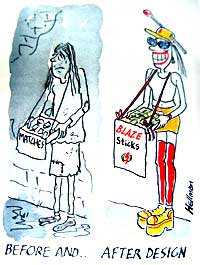 As with all such re-branding, makeovers probably works best when you have a proven product which people want/need, but which has potential for even more people to want it, if it can be brought to their attention in the right way.
Juicy new digi-comp:
The new Canon Digital Creators Contest has four categories; web-based images, digital video, digital graphics and digital photography. Top prize is a healthy $20,000 and all the publicity you can carry. Deadline is the 3rd September 2002.